The live broadcast of Puffball is no longer available. Stay tuned for more video content coming soon…
Broadcast live by Roundhouse Digital Productions, Puffball is a new production devised and performed by a company of incredible professional circus artists and young performers, all of whom identify as LGBTQ in collaboration with renowned artist Mark Storor.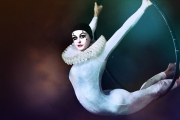 Five weeks of contemporary circus from around the globe.