What drives someone to be a circus performer? Is it possible to psychologically profile the juggler, aerialist and acrobat? What goes on in the mind and body when a performer is on stage?
In this panel discussion, film directors of_ Impossible Acts_ Rob Curry and Richard Mitchell present excerpts from their film and are joined by extreme sports psychologist Rhonda Cohen, Circus Space and Paralympic Ceremony physiotherapist James Wellington and circus artist Arron Sparks to unlock and discuss the inner workings of circus and its practitioners.
Image © Bertil Nilsson
SAVE

15% –

BOOK

TWO

OR

MORE

CIRCUSFEST

SHOWS
Terms and conditions apply. Find out more.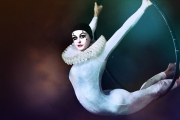 Five weeks of contemporary circus from around the globe.
News
We've all been wowed by circus performers and asked ourselves 'How on earth do they do that?!'…But what DOES it take to juggle fire, somersault on a tightrope and leap from great heights without a harness? Is it all about physical strength or does the mind play a vital role in making a world-class circus performer?
Essential Info
Running Time: 90 mins (approx.)
*Fees are £1.50 per transaction.