Gandini Juggling are at the vanguard of contemporary circus, reinventing and reinvigorating juggling and celebrating this incredible art form in all its guises.
Somewhere between circus and performance art, the company's new work is a departure. This is juggling disrobed, unthroned. Away from their usual mathematical obsessions, this show is about the juggler's body, about the juggler's perversity. With echoes of Stanley Kubrick, Frederico Fellini and Haute Couture inspired costumes by Gemma Banks.
The risk pays off: it is in the intersection between circus, dance and madness that the most exciting living theatre comes alive
Co-produced by La brèche, Agit Cirk, Cirque Jules Verne and The Lighthouse, part of the EU-funded cross-border cooperation programme of the European Regional Development Fund for the contemporary circus project, PASS Circus Channel.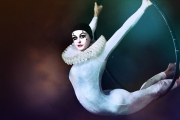 Five weeks of contemporary circus from around the globe.
Essential Info
This production takes place at Shoreditch Town Hall, 380 Old Street, London EC1V 9LT.
Please note: This production contains nudity and some scenes of an adult nature. Age guidance 16+