A spectacular free circus dance production at Maiden Lane Estate from emerging choreographer Ella Robson Guilfoyle.
Echoes is an exploration of the potential of extraordinary performance in the ordinary journeys that make up our daily routine. The paths of the performers alter and overlap, sparking momentary relationships that dissipate and re-form, causing confusion, joy and frustration.
Some will realise their desires, others will not; all will continue to strive to make connections across the physical structure and with each other.
Produced by DREAM in co-production with Jacksons Lane. Funded by the National Lottery through Arts Council England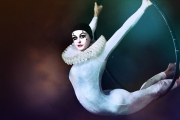 Five weeks of contemporary circus from around the globe.
Essential Info
This production takes place outside Maiden Lane Community Centre, Maiden Lane Estate, 156 St Paul's Crescent, London, NW1 9XZ.
In the event of poor weather conditions, Echoes may be subject to cancellation. Stay tuned to the website and social media channels for more info.