Utterly captivating, this is a circus act of dazzling power.
Enchanted by the beauty of weightlessness and the dream of flying, Finnish artists Sanja and Elice have revived the old and forgotten circus art of hair hanging.
Dreamlike, the two women float upwards, magically suspended only by their hair. As their extraordinary, graceful aerial duet begins, poetry and wonder combine to magical effect.
Never nostalgic, Capilotractées is offbeat, yet feminine and sensual, taking hair – the sacred emblem of femininity – and playing with the powerful emotions it arouses in us all.
Presented with Association des Clous and Crying Out Loud
Image © Daniel Michelon
Tent Provided By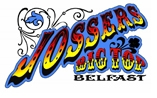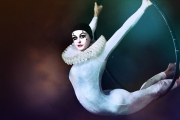 Five weeks of contemporary circus from around the globe.
News
We interview with Sanja Kosonen and Elise Abonce Muhonen from CircusFest's upcoming Capilotractées.
Essential Info
*Fees are £1.50 per transaction.
Running time: 65 minutes
Suitable for ages 8+