Sitting on the top of the world. And now we're sitting here, twiddling our thumbs, wondering where the hell our crowns went.
Three friends unite for a drink after a year of going their separate ways. Small talk turns into the old jokes but in the blur of crumbling memories, they are forced to face the realities of growing up. In association with theatre-makers from the Royal Central School of Speech and Drama, in motion create physically engaged work treating text as a vehicle for exciting and meaningful experiences.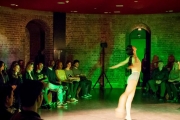 Four days of live music, comedy, cabaret, theatre, dance, puppetry and much more..
Essential Info
*Fees are £1.50 per transaction.
Age Guidance: suitable for audiences 16+