Broadcasting freshly portioned perverse literature – a spooky crime thriller about ghost hunters.
This radio drama named John Sinclair was created from serialized pulp fiction and it is an audio drama you just have to see. What will be the last story of John Sinclair, The Son of Light, The Heir to The Cross? Presented by Damu.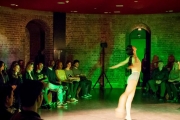 Four days of live music, comedy, cabaret, theatre, dance, puppetry and much more..
Essential Info
*Fees are £1.50 per transaction.
Late comers policy: Strictly no later comers admitted.