Gerhart Hauptmann's seminal 1892 realist drama about a 19th century Silesian Weavers revolt meets the contemporary impossibility of college life in this new production.
At a time when the word 'revolution' brings to mind eye rolls, and protest movements are silenced soon after they are started, Pace University share the stage with Silesian Weavers in an effort to understand the lasting necessity for dissent. Using Hauptmann's words and a mix of rock 'n' roll and rehearsed revolutions, The Weavers pieces together a lasting image of what happens when generations can no longer hold themselves together.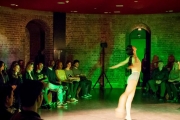 Four days of live music, comedy, cabaret, theatre, dance, puppetry and much more..
Essential Info
*Fees are £1.50 per transaction.
Age guidance: 16 years and over