Coming to the art of performance poetry from an interest in hip-hop, Tom Kwei's pieces are dense and lyrical, revelling in witty rhythms and ambitious forms. Exploring everything from the aftermath of a relationship to the creation new words, as well as a poem where he uses the word 'box' in 20 different ways!
Tom's new show, Premeditated Worder collects his most popular work, along with brand new pieces, into an exuberantly touching half hour of wordplay and soul bearing. Kwei's work is poignant, chaotic as well as quixotic, often all at the same time.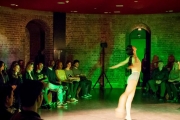 Four days of live music, comedy, cabaret, theatre, dance, puppetry and much more..
Essential Info
*Fees are £1.50 per transaction.
Age Guidance: Suitable for ages 16+