Only Human Dance Collection showcases a trio of dance performances exploring human nature and relationships.
Silence The Song in Them
Exploring our human capacity to communicate and the occasional break down of this communication, relationships form and dissolve between the people before us. The human nature of the work draws the viewer in and allows each individual to form his or her own connections with it. Juxtaposing these human gestures and afflictions is a rich and undulating movement language, giving the piece a warped and animalistic edge. Each dancer embodies this physicality in their own personal way and the audience can witness each individual experiencing their own physical journey.
Truth Be Told –
POP

Balloons

Every day, each one of us is lied to in some way or another. Whether it be by a friend, a lover, a neighbour, a shopkeeper, a con artist, a corporation, the government or society – we are constantly having the wool pulled over our eyes in some shape or form. But is this something we as individuals are genuinely unaware of, or something we (sub)consciously choose to ignore? And if we are choosing to ignore it, then what would it take for us to be jolted to the realisation that we are being deceived in so many ways, about so many different things..? How might we react upon discovering we have been deceived?
We (spelt you & i) – Kate Cox/Gracefool Collective
In this surreal party setting we see alliances form and relationships build and break. Social patterns twist and change, and we witness the transformation and deviation of each character in turn. The result is an unrequited love letter gone wrong, a gender swapping tango, and a fierce battle of the sexes. WE (spelt you & i) is an entertaining piece for seven performers. It plays on everyday observations, focusing on ordinary interactions from an extraordinary viewpoint. This piece is about relationships; friendships and hardships. Its about communication, mis-communication, hellos, goodbyes, towing the line, drawing the line and stepping over the line.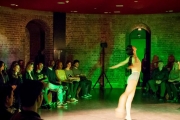 Four days of live music, comedy, cabaret, theatre, dance, puppetry and much more..
Essential Info
*Fees are £1.50 per transaction.