A brand new female comedy double act. Katie and Jay have created a world populated by people incapable of living in reality. Desperate to deny the audience of a break from laughter, even the transitions are carefully choreographed to elicit awkward amusement.
We believe we have created a comedy that is fresh, entertaining and has mass appeal, from the minds of two gawky girls who have crafted their ability to make an audience laugh. Oh – and there will be tap dancing.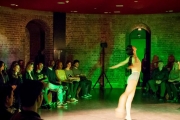 Four days of live music, comedy, cabaret, theatre, dance, puppetry and much more..
Essential Info
*Fees are £1.50 per transaction.
Age guidance: 16 years and over