Jess is determined to walk in the footsteps of Dame Judi and Helen as a bright new force on the London stage. BAFTA's and Golden Globes surely await. But for now the only boards she treads are at the cafe where she waits tables while perfecting her craft.
Witty, warm and ever hopeful, Jess carries us on her irrepressible journey through the underbelly of the British drama industry via thankless TV crowd scenes, questionable auditions, unpaid photo shoots and pearls of wisdom from a pantomime horse. All she needs is an agent and the right stage. It's only a matter of time…
Presented by Davina Leonard and N.K.I.D Productions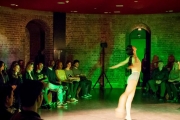 Four days of live music, comedy, cabaret, theatre, dance, puppetry and much more..
Essential Info
*Fees are £1.50 per transaction.
Age guidance: 18 years and over