Needless Alley is a collective of seven multidisciplinary artists intertwining their different practices, ranging from poetry, dance, sound art, visual art and performance.
In Embryo is an exploration of narrative through a series of improvising techniques, creating experimental performances that are developed live on stage to moody and atmospheric sounds. Using constant improvisation and collaboration, In Embryo sees different art forms collide on stage, united by the conductor of the piece.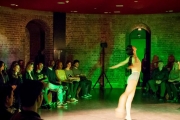 Four days of live music, comedy, cabaret, theatre, dance, puppetry and much more..
Essential Info
*Fees are £1.50 per transaction.