A double bill of contemporary dance works.
Herviss Family
Is contemporary dance dead? Is financing important for creating art? Does a performance have to go somewhere?
Herviss Family is a performance about the convention in theatre and contemporary dance. The performance has three characters: Hervia, Onia and Pelvis. They are waiting for Herviss. They do that by questioning ideas and ways of expressing in the field of performative arts. They are playing with notions like: structure, improvisation, traditional, concept, idea, multi-disciplinary, contemporary etc.
Presented by Asociatia Art EveryWhere .
Lady Like
A short work about the female image and femininity throughout history.
Many women feel alone at times whether they are surrounded by other women or not. If a woman cannot climax, does that mean she is no longer a woman?! What makes a woman a woman? Is it the softness of her voice,or the redness of her lips? Maybe it's the way her body moves in space. In order to feel like a woman does she need to speak her mind, or is it enough to just stand still and smile?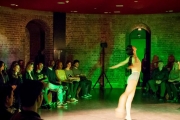 Four days of live music, comedy, cabaret, theatre, dance, puppetry and much more..
Essential Info
*Fees are £1.50 per transaction.