Loneliness has made us express ourselves in another language
At the beginning we had no friends. We lived on the tenth floor of a block of flats where only a drinking, depressed ex-colleague would pay us visits. It was there that, without even knowing it, we started living in the chairs.
NuNu Platform's Experiment Ionesco is an adapted confession on stage of our lived loneliness, irony, absurdity, playfulness, desperation, suffocation. Comic and bitter…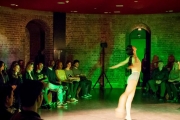 Four days of live music, comedy, cabaret, theatre, dance, puppetry and much more..
Essential Info
*Fees are £1.50 per transaction.
Suitable for ages 5 years and over