Rachel Wiseman has always dreamed of becoming a Rabbitzen (a Rabbi's wife). On the brink of making their dreams come true, her friendship with Sarah blossoms into love. Now will she chose her heart or her dreams? Rachel is now torn between the demands of her Orthodox Jewish upbringing and her heart, in this fictionalized one-woman musical written and performed by Emily Rose.
Emily Rose Simons' show enjoyed a performance at the York New Musical Festival, successful run at the Edinburgh Fringe.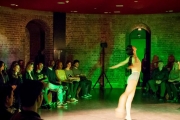 Four days of live music, comedy, cabaret, theatre, dance, puppetry and much more..
Essential Info
*Fees are £1.50 per transaction.
Age guidance: 16 years and over