Charlotte Victoria Furness and her ukulele present an evening filled with music, mad women, humour and heartbreak at Accidental Festival 2014's cabaret night.
Charlotte Victoria has cried so much over past heartbreaks that she found herself drowning in a pool of tears. To cope with the flash flooding she decided to build herself a boat to sail away on all of her troubles, whilst singing tongue in cheek songs on her ukulele to tell her story.
We begin our tale with tears and boat building, followed by tales of biscuits and boys and fights over bee hives, ending on a cautionary tale of sailors. The act aims to make people laugh through their heartbreak and know, through laughter one day the tears will end.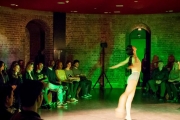 Four days of live music, comedy, cabaret, theatre, dance, puppetry and much more..
Essential Info
*Fees are £1.50 per transaction.
Age Guidance: Over 18s only