In a quaint English café where everything is perfect and extremely dull, an unlikely team of outcasts are preparing for the biggest heist of their lives.
Although the plan seems simple, the group soon run into trouble with unplanned murders, mistaken identity, love smitten gang members, revealed secrets and a not so successful criminal operation. Café Ruse is a gripping tale of lies, deceit, guns, crime, tea, cake and a mission to steal the most valuable piece of art in the world.
The production combines theatre, live music, movement, clowning and multi-role playing, creating a fast paced farcical adventure. Presented by Selah in partnership with AF Connects.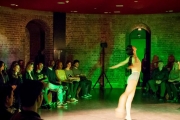 Four days of live music, comedy, cabaret, theatre, dance, puppetry and much more..
Essential Info
*Fees are £1.50 per transaction.
Age Guidance: suitable for audiences 14+