A new comedy drama from musical duo Silly People. This mini folk-opera, held together with nothing more than some microphones, a guitar, a ukulele (and any other instruments the two can get their hands on!), tells the story of Charlie Wayne and Emily Clewitt in their quest for love via social media.
The two accept friend requests, fall in love, update statuses, drift apart, send a tweet or two and both learn a valuable lesson covered in hashtags! Almost everything is made public in this contemporary tale based on true stories.
Cheeky and absorbing observations on the absurdities of monopoly, carnivorism and pre-mid-life crises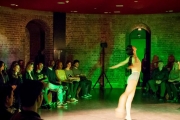 Four days of live music, comedy, cabaret, theatre, dance, puppetry and much more..
Essential Info
*Fees are £1.50 per transaction.
Age guidance: 16 years and over