Comedy duo Taggart and Turner premier their summer radio comedy Room for Two. A limited drama series about Joy and Helen, two young women who are suddenly thrust into the farcical maze of London Flat hunting after being handed their eviction notice by their scheming landlord.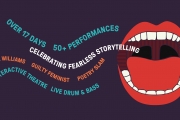 Are you stuck in your ways? No? Good. Because The Last Word Festival is packed with performances for the bold, the curious and those who like to think differently. Over 17 days, different perspec…
Essential Info
This is a free event and will be first come first serve.