A unique experience, +/- Human is an immersive installation created in response to the magnificent space of the Roundhouse.
How do you know that something is alive? Created for +/- Human, Random International's Zoological is a mysterious flock of flying spheres that surrounds visitors. Step inside and experience how they interact with humans and move together in this kinetic world of machines and bodies, with new music from Warp Records.
MORE INFO
The spheres' flocking behaviour is determined by generative algorithms that enable them to react to their environment. The spheres will select individuals from among the crowd and respond to them through movement. Technology converges with art in this hypnotic experience.
Please note that at busy times every audience member may not be able to interact with the orbs, but we will do our best the make sure that everyone who wants to gets a chance.
Between 2pm and 3pm every Friday throughout +/- Human there will be pop up performances by young artists, responding to the themes of the piece.
Contemporary art collective Random International are the creators of the globally successful Rain Room. +/- Human is brought to you by Bloomberg Summer at the Roundhouse, an annual season dedicated to introducing new audiences to innovative culture.
They are the most convincing embodiment of artificial intelligence I have ever seen.
Mesmerising…
We know they are machines, but we keep assigning emotions to them, and that's the effect the artists were looking for…
CREDITS
Commissioned by the Roundhouse, with support from THE ROYAL BALLET, +/- Human is curated by WAYNE McGREGOR, Zoological art installation by RANDOM INTERNATIONAL, lighting by LUCY CARTER, sound by MARK PRITCHARD, dance performances choreographed by WAYNE McGREGOR and performed by COMPANY WAYNE McGREGOR and dancers from THE ROYAL BALLET, music by WARP RECORDS.
Images © Ravi Deepres and Alicia Clarke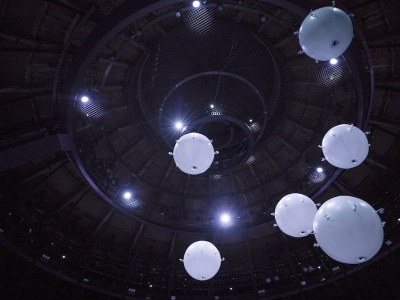 The +/- Human Guide
Discover the people, ideas and inspiration behind our new installation with this handy guide.
Read More
Essential Info
Installation opening times
Open daily from 12pm
You can book online until 12pm on the day of your visit. After this time you can book in person at the box office.
Last Entry as follows:
Tuesday – Thursday: 8pm (Installation will close at 9pm)
Friday – Monday: 5pm (Installation will close at 6pm)
Tickets Pre-book until the day before or buy on the door. Standard £5 (£7 on the door)
Free tickets for ages 0-25
Free tickets can be booked for anyone aged under 26 through the usual booking process. 16-25 year olds must bring ID to the venue and under 16s must be accompanied by an adult.