Missed out on getting a copy of the Tru Thoughts 18 limited-edition vinyl compilation? We have a handful of copies left, which you can buy
here
Join us to celebrate 18 years of one of the most iconic independent labels in the UK, as we let Tru Thoughts take over the Roundhouse for a full day festival, featuring live bands, DJs and MCs across three stages.
Reflecting the label's eclectic output, expect a mix of soul, funk and electronica plus tropical rhythms and a healthy dose of hip hop and sound system culture, with headline sets from Quantic (DJ set), the Hot 8 Brass Band, Alice Russell and Rodney P, alongside brand new signings and classic acts from the last 18 years.
Keeping you fed and watered throughout the day, enjoy a specially curated selection of craft beer from Fourpure, Brooklyn, and even a limited-edition Signature Brew beer created in collaboration with Rodney P & Tru Thoughts, plus vegan hotdogs from Joey's Kitchen, and a pop-up burger stall from Lucky Chip.
Full line-up and stage splits:
Main stage:
Quantic (DJ set)
Hot 8 Brass Band
Alice Russell
Wrongtom Meets The Ragga Twins
Rodney P
Werkha ft Bryony Jarman-Pinto
Robert Luis (Tru Thoughts A&R)
Basement:
Anchorsong (Live)
Flowdan (Live)
Lakuta (Live)
J-Felix (Live)
Bryony Jarman-Pinto (Live)
Rhi (Live)
Terrace stage (DJ sets):
Nostalgia 77
Belleruche
Maddslinky
J-Felix
TM Juke
Robert Luis (Tru Thoughts A&R)
About Tru Thoughts
Tru Thoughts was set-up in 1999 when Robert Luis and Paul Jonas joined forces to create a platform for the exciting new music that was coming through their club nights at the time. It quickly grew into one of the UK's most respected independent labels, with a roster featuring uniquely talented singers, American brass bands, underground UK hip hop acts and globetrotting dance music producers.
Essential Info
Age Restrictions: Under 16s to be accompanied, under 14s accompanied and in seated areas only.
Latecomers will be admitted throughout (no re-entry to the venue after 6pm).
*Fees are £2.95 per ticket and £1.95 per transaction
Tickets
Earlybird tickets £19.50 (limited availability) (SOLD OUT)
Standard tickets £25
Standard + after-show party £29.50 (limited availability)
Tickets available online until 2pm Sat 21 Oct, then limited tickets available on the door after that (subject to availability).
VIP tickets are no longer available online, but you can still upgrade your ticket on the day to get your hands on the limited edition Tru Thoughts 18 vinyl compilation (see below). Head to the merch desk to ask about vinyl upgrades.
After-show party will run from 11.30pm – 3am
Tru Thoughts 18 vinyl compilation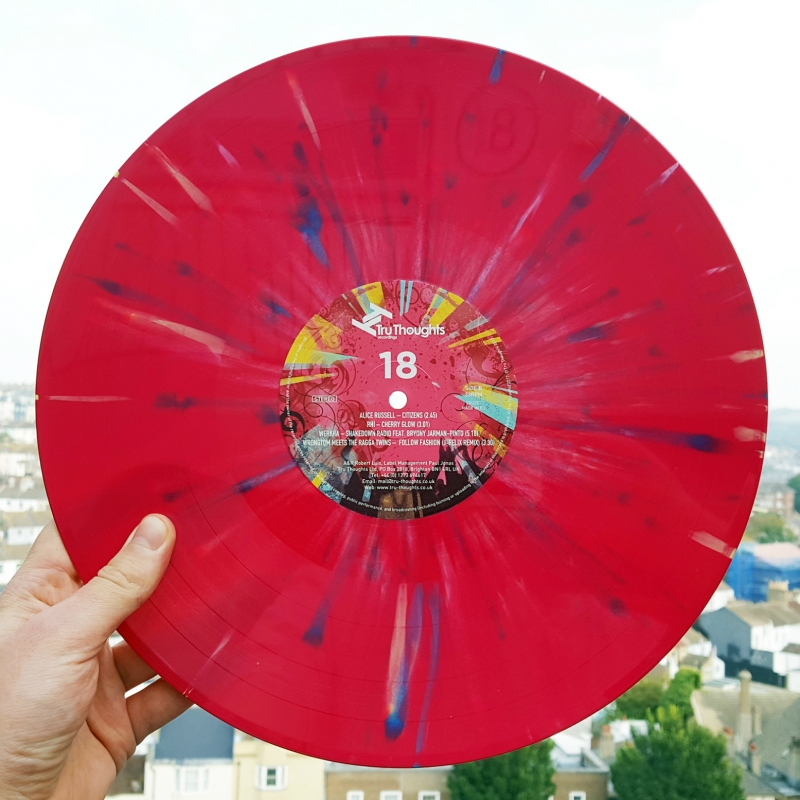 Get your hands on an exclusive Tru Thoughts vinyl release, featuring rare demos, remixes and more. The only way to get your hands on a copy of the record is with a VIP ticket.
Full tracklisting:
A1. Quantic – Demo No. 6 (Quantic Demo from 2000)
A2. Hot 8 Brass Band – Can't Nobody Get Down (Alphabets Heaven Remix)
A3. Sleepin' Giantz – Badungdeng (DieMantle Remix)
B1. Alice Russell – Citizens
B2. Rhi – Cherry Glow
B3. Werkha – Shakedown Radio feat. Bryony
B4. Wrongtom Meets The Ragga Twins – Follow Fashion (J-Felix Remix)
Got a standard ticket and want to upgrade to V.I.P to get your hands on the record, access to the afterparty and more? Email upgrade@roundhouse.org.uk.
Stage times
Main Stage:
18.00 – 18.20 Robert Luis (DJ)
18.20 – 18.50 Werkha feat Bryony
19.00 – 19.30 Rodney P & Skitz
19.45 – 20.30 Hot 8 Brass Band
20.40 – 21.20 Wrongtom Meets Ragga Twins
21.35 – 22.20 Alice Russell
22.30 – 23.30 Quantic
Basement:
15:05 – 15:35 Rhi
15:50 – 16:10 Bryony
16:30 – 17:00 J-Felix
17:20 – 18:00 Lakuta
18:20 – 18:50 Flowdan
19:10 – 20:00 Anchorsong
Terrace Stage:
14.00 – 16.00 Tru Thoughts Staff Picks
16.00 – 17.00 Nostalgia 77 (DJ)
17.00 – 18.00 TM Juke (DJ)
18.00 – 19.00 J-Felix (DJ)
19.00 – 20.00 Maddslinky (DJ)
20.00 – 21.00 Belleruche (DJ Modest Set)
After Party in Basement/Made Bar (23:30 – 3:00)
Quantic (DJ)
Rodney P and Skitz
Wrongtom (DJ)
Robert Luis (DJ)
Werkha (DJ)
J-Felix (DJ)
Titeknots (DJ)
03:00 After-show party curfew
Times approximate and subject to change without notice.
http://bit.ly/TT18Apple