Black dog is what Winston Churchill used to call his depression… I have a beautiful black dog and I call her Creshendorious.
Gig meets theatre meets a tidal wave of glitter in My Beautiful Black Dog – a poetically wild musical that explores the difficult and beauteous complexity of our fragile minds.
Depression is at its heart, but it's not depressing – it's joyous, funny and hopeful.
This electrifying show challenges the urgent stigma around mental health and encourages the audience to take ownership over their own black dogs whilst channelling infectious dance moves, dazzling costumes and banging tunes!
My Beautiful Black Dog is directed by Laura Keefe, produced by Boom Shakalaka Productions and performed by Brigitte Aphrodite and Quiet Boy who also provides musical direction.
Imagine the Mighty Boosh crossed with the best episode of Girls. Prepare to cry and laugh several times over. You'll leave a better person.
Prepare for your heart to be broken and then mended in this hilarious yet touching punk musical.
It's rip roaring musical theatre for the modern age, original, heart-wrenching and warming all at once.
I don't think I've ever seen anything so emotionally honest on stage before.
About Brigitte Aphrodite:
Brigitte Aphrodite is a punk poet, musician, theatre maker and feminist showgirl. With her band she has played Leeds and Reading Festivals, Bestival, Latitude and Kendal Calling, and has supported Kate Nash and Josie Long on their UK tours. Brigitte's debut studio album is due for release in 2017.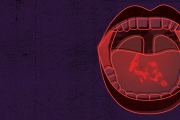 The Last Word festival is home to a captivating mix of live performances that all have a story to tell. Featuring new work by established artists, rising talents and works-in-progress from home-g…
Essential Info
Age restrictions: Recommended 16+
Latecomers will be admitted at a suitable break in the performance.
Running time: approx. 1 hour
*Fees are £1.95 per transaction
Credits
Directed by Laura Keefe
Musical Direction by Quiet Boy
Performed by Brigitte Aphrodite and Quiet Boy
Produced by Boom Shakalaka Productions