"I know a lot of dead people now…" Mrs Death
Excerpts from the private correspondence, daydreams and diaries of Mrs Death.
A live collaboration of new poetry and fiction by Salena Godden with music by Peter Coyte.
Mrs Death Misses Death is the life affirming kick up the ass you've all been looking for… A rousing call to arms and a celebration of loving this life and our short time here.
Salena Godden and Peter Coyte met and formed ska-punk-dub duo SaltPeter in 1997. This live performance is exclusively written for The Last Word festival and it marks the 20th anniversary of this highly original and trailblazing partnership.
SaltPeter cook up their unique mixture of scandalous lyrics and infectious music. If you can imagine a blend of The Specials, The Blockheads, Ween and Kate Bush playing a mix of dance, rock, ska and dub then you're still only part of the way there. Music for your feet, head, belly and other bits besides.
About Salena Godden:
Author of literary memoir Springfield Road and poetry books Fishing In The Aftermath and Under The Pier, Salena Godden is one of Britain's foremost poets and a regular headliner at literary and music festivals internationally. Salena's essay Shade was published in the 2016 bestseller and literary sensation The Good Immigrant, which was championed by JK Rowling and won the Book of the Year Reader's Choice award. Her short-fiction piece Blue Cornflowers was shortlisted for the Guardian short story prize in June 2016 and a performance of her poem Titanic was aired on BBC poetry programme We Belong Here. Salena Godden's LIVEwire album is out now, the vinyl is released with independent spoken word label Nymphs and Thugs in May. It was shortlisted for this years prestigious Ted Hughes Award for new work in poetry. Salena has also been shortlisted for 'Best Spoken Word Performer' in the Saboteur Awards 2017.
She is everything the Daily Mail is terrified of.
Salena Godden is a powerhouse.
About Peter Coyte:
Peter is a composer and artist producing work in theatre, film and installations. His recording career began in 1994 as Shape Navigator on Guerilla Records. Peter is currently a member of the experimental improvising ensemble Automatic Writing Circle. His myriad of stellar credits include: The Massive Tragedy of Madame Bovary by Peepolykus, the 35th anniversary version of Educating Rita at The Liverpool Playhouse with Leanne Best & Con O'Neill, Juno & The Paycock with Niamh Cusack (Bristol Old Vic), Twelfth Night with Nicholas Woodeson & Matthew Kelly for the opening of the new Everyman Theatre and Macbeth starring David Morrissey & Julia Ford at The Everyman, Liverpool.
Coyte's score is the food of love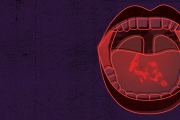 The Last Word festival is home to a captivating mix of live performances that all have a story to tell. Featuring new work by established artists, rising talents and works-in-progress from home-g…
Essential Info
*Fees are £1.95 per transaction
Age restrictions: Recommended 16+
Latecomers will be admitted at a suitable break in the performance.
Running time: approx. 1 hour