Guinness World Record Holding Beatboxer and acclaimed lyricist Testament leads an introduction to performing poetry with human beatbox.
Come prepared to get stuck in as he delves into the relationship between poetry, human beatbox and vocal soundscapes. Prepare to explore spoken word, rap, song and vocally produced beats.
In this masterclass you will learn new skills and techniques to use in your writing and performance , learn how to turn poetry into rap and have a go at creating vocal beats.
Testament is a celebrated rapper, spoken word artist, theatre-maker and beatboxer. His work has appeared on BBC 1xtra, Radio 4, Sky Arts and is currently supported by Manchester's Royal Exchange. His previous theatre show Blake Remixed was co-commissioned by West Yorkshire Playhouse and travelled to the Edinburgh Festival Fringe last year. His work in progress The Privilege Show explores sexism, privilege and Hip-Hop.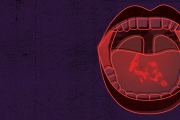 The Last Word festival is home to a captivating mix of live performances that all have a story to tell. Featuring new work by established artists, rising talents and works-in-progress from home-g…
Essential Info
*Fees are £1.95 per transaction
Ages: 16+
No experience necessary, but an interest in writing and performance would be useful.