In 2016, the historic nightclub and concert venue Passing Clouds was unceremoniously shut down after ten years. Fabric almost suffered a similar fate. According to the Mayor's office, over the past five years the number of nightclubs across all of London's 33 local authorities has decreased by fifty percent.
London's nightlife is disappearing, and Last Night is the story of those who experienced it, in their words and their music.
Last Night is a boundary-pushing spoken word and music experience from the critically acclaimed band Benin City, produced by cross-art form company nabokov. Featuring original music performed live alongside poetry and audio interviews from London dwellers – DJs, property developers, barmen, and of course, the ravers, Last Night presents a rhythmic, brass-flavoured snapshot of the city's fading scene. Directed by Stef O'Driscoll.
About Benin City
Benin City is Joshua Idehen, Tom Leaper and Shanaz Dorsett. They fuse electronica, brass and spoken word. This is their second project after the critically acclaimed Fires in the Park.
About nabokov
nabokov are a cross-art form company whose focus is to reinvent theatre to reflect the diverse experiences and stories of our time.
Created with support from Apples and Snakes.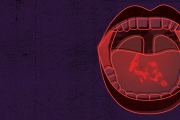 The Last Word festival is home to a captivating mix of live performances that all have a story to tell. Featuring new work by established artists, rising talents and works-in-progress from home-g…
Essential Info
*Fees are £1.95 per transaction
Age restrictions: Not suitable for children. Stricty no under 18s
Latecomers will be admitted at a suitable break in the performance.