Never have I ever…
…Lied during a questionnaire
…Kept silent to protect a friend.
…Bent the truth for my job.
Francesca Beard takes us on an epic adventure through a wonderland of lies, fictions and Wikipedia facts in a show for anyone who has ever said they read the terms and conditions.
Your host is a sham-shaman, who will lead you through a stranger than fiction underworld of lies, fabrications and "facts" to explore make-believe in its many forms; from political spin: "We live in a meritocracy", to polite half-truths: "Thank you Grandma, I love this cardigan."
In a world that down-votes experts and clicks on Donald Trump, Francesca Beard's new show asks: 'What is the global cost of make believe?', 'Are all humans liars?' and 'Can the truth set us free?'
Francesca is one of the most successful spoken word artists in the UK, and has developed innovative work such as Chinese Whispers and Animal Olympics.
Directed by Rob Watt (Standby for Tape Back-up, Goosebumps).
The Queen of British performance poetry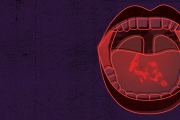 The Last Word festival is home to a captivating mix of live performances that all have a story to tell. Featuring new work by established artists, rising talents and works-in-progress from home-g…
Essential Info
*Fees are £1.95 per transaction
Strobe lighting and haze will feature.
Age restrictions: not suitable for children. Children may attend if accompanied, at the adult's discretion.
Latecomers will be admitted at a suitable break in the performance.