A group of young poets from the Theatre Royal Stratford East, mentored by Kat Francois delve into the sensitive and complex subject of mental health.
This piece relays their own experiences but also the experiences of others. Through focus groups and interviews they have connected with people of different ages, genders and walks of life, gathering personal stories of mental health.
Using poetry and theatre they have created a dynamic, emotive and memorable piece of work.
Directed by Kat Francois, playwright and Formerly World and BBC 3 TV Slam Champion.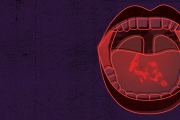 The Last Word festival is home to a captivating mix of live performances that all have a story to tell. Featuring new work by established artists, rising talents and works-in-progress from home-g…
Essential Info
Latecomers will be admitted at a suitable break in the performance.
*Fees are £1.95 per transaction