Resident artist Isobel Rogers presents a work-in-progress performance of her new show Elsa.
Elsa fits in everywhere and nowhere. She is invited to a coffee morning 'with the girls' and wants to run away as soon as she sits down.
As Elsa is confronted with different characters (from literature and reality) she begins to lead the lives of Nina, Miranda, Lillian and Grace in her head. Keeping a part of herself elsewhere through song, Elsa plays a trick on a world that keeps telling her how to 'be'.
A play on the open mic format, Elsa brings a sense of humour and theatricality to the every day.
About Isobel Rogers:
Isobel is a songwriter, actress and radio producer who has worked for various new writing theatre companies as well as producing her own work as a solo artist. She studied English Literature at university and has worked for the BBC. Isobel is currently a Resident Artist at the Roundhouse.
Our Resident Artist Programme offers support and opportunities for emerging artists aged 18-25 to transition from our Creative Programme into the creative industries.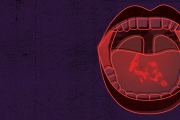 The Last Word festival is home to a captivating mix of live performances that all have a story to tell. Featuring new work by established artists, rising talents and works-in-progress from home-g…
Essential Info
Age restrictions: not suitable for children. Children may attend if accompanied, at the adult's discretion.
Latecomers will be admitted at a suitable break in the performance.
Running time: approx. 30 minutes
*Fees are £1.95 per transaction