Her fingers pinch my plate. Her thumbnail, a light pink.
The end worn out from plate washing. A side of it chipped from London bad luck.
I give her an awkwardly humble nod.
She whispers a "thanks mate" picking up the plate.
I know she's saying something people just say but it makes me want to wash the dishes myself
A story about mental health and London, a city that suffocates. Walk up a hill to see an old friend who's in need of help, all the while listening to the same song over and over again.
Sometimes I wake up wishing I could sleep for years.
Sean Mahoney is a writer performer. He is the co-creator of spoken word night Boxedin. He's featured at Jawdance, Bang Said the Gun and Chill Pill. His show Until You Hear That Bell, ran at the BAC, toured the country and has also run at Stratford Circus, Albany Theatre, and The Unicorn.
His writing is nimble and light-footed, full of little asides. It's funny – he has great timing – but he's also created a piece with weight and range
It was one of those things that I was so keen to tell people about. It's really impressive and funny and moving and fascinating. I really liked it. I had so much time for it in more than a few ways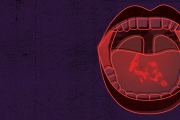 The Last Word festival is home to a captivating mix of live performances that all have a story to tell. Featuring new work by established artists, rising talents and works-in-progress from home-g…
Essential Info
*Fees are £1.95 per transaction
Suitable for 14 years +
Latecomers will be admitted at a suitable break in the performance
---
AGED

16-25?

A handful of tickets are available at just £5 each for GET IN members.

Already a member? Log in first, then hit the 'find tickets' button to see if any GET IN tickets are left.