We celebrate 35 years of Apples and Snakes with an explosive mix of 4 ten-minute tasters of some of the best spoken word shows out in full-length glory in 2017.
Apples and Snakes is England's leading organisation for performance poetry and spoken word, with a national reputation for producing exciting, engaging and transformative work in performance and participation.
Tonight's trailers are as follows:
The Cult of Kenzo by Paula Varjack
Paula finds herself outside a shopping center queuing for a limited edition clothing collection. The next 5 hours mark the strangest shopping experience she has ever had, as she sees into a world of those willing to spend hours and even days waiting for the chance to buy. How do brands create desire within us to need and want to buy? What fuels this relationship? How do we as consumers fuel it further?
To Helen Back by Helen Seymour
Analysing sickness, health and what it really means to recover, Helen Seymour admits you into a surreal hospital to create a funny, unique and powerful theatrical experience.
Shall We Take This Outside? by Adam Kammerling
National poetry slam champion and battle-rapping cyborg Adam Kammerling teams up with real life super-humans Eric Mitchell and Jacob Smart from Parkour Dance, to explore the effect of fictional hero behaviour on real-world attitudes to violence.
PLOT 17 by Kenny Baraka
This is the story of the Green Man, a guerrilla gardener, fighting to save Mother Earth. Join him at the bloc party to end all bloc parties.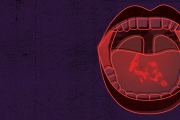 The Last Word festival is home to a captivating mix of live performances that all have a story to tell. Featuring new work by established artists, rising talents and works-in-progress from home-g…
Essential Info
Age restrictions: Recommended 14+
Latecomers will be admitted at a suitable break in the performance.
Running time: approx. 1 hour
*Fees are £1.95 per transaction
---
AGED

16-25?

A handful of tickets are available at just £5 each for GET IN members.

Already a member? Log in first, then hit the 'find tickets' button to see if any GET IN tickets are left.