Inspired by the many exciting musical and artistic opportunities that London has to offer, the Roundhouse's team of young producers would like to take you on a musical journey through the city.
Taking over the Roundhouse studios and combining live music, art installations, artist workshops and panel discussions with music professionals, Sounds of the Underground will showcase the uniqueness of London's music scene.
With emerging names like Shanty, Jack Eagle, or Burnz, genres as varied as rock, electro, folk and afrobeats will be represented. Whether you are from East, North, West or South, there will be something new for you to discover. So come along and experience the sounds of the city like you never have before.
____________________________________
Daytime: 1pm – 4:30pm
The Sounds of the Underground will take over the Roundhouse to take you on a journey through the sounds of Camden, East London and Brixton. Each stop will be an opportunity to explore live performances, workshops and discussion panels from local artists and music experts.
Camden will be represented by Burnz, Heman Sheman and Tokyo Sexwail.
To recreate the atmosphere of Brixton, we've enlisted the help of Holly Flo Lightly, LAVZ, Faithee and Beatfox & Marv Radio.
Lastly, we'll have Jack Eagle, Chiminyo and Maxwell Owin performing for East London.
_____________________________________
Evening: 7:30pm – 11pm
The day will be followed by a night of live music with Shanty, Jack Eagle and Burnz in the Sackler Space.
These four emerging bands and artists will bring their diverse musical influences together for an unforgettable evening.
Sounds of the Underground has been produced as part of Roundhouse's Festival Producers Project; a three month project bringing together a team of young producers to plan and deliver events at an established music festival.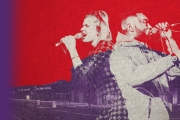 Discover tomorrow's headliners
Essential Info
Age restrictions: 14+, under 16s to be accompanied by an adult.
Latecomers will be admitted throughout.
---
Ticket Info
Daytime tickets are £5 and will gain you entry to music workshops, panels and showcases throughout the day.
Evening tickets are £5 and will gain you entry to the live music performances in the evening only.
If you fancy coming to both, combined tickets are £7
*Fees are £1.95 per transaction