Rising Sounds is Roundhouse's major annual project giving unsigned acts the opportunity to shape one of their tracks with some of the best producers in the UK.
Rising Sounds album launch will unveil the tracks laid down by the top producers and unsigned artists who took part in the flag-ship project, with live performances from some of the contributors.
Soul singer and Roundhouse Resident Artist ArA Harmonic headlines the launch, having supported legendary artists Lee 'Scratch' Perry and Dub Pistols. Promising unsigned acts Sonny and Lovutta plus our Resident Artist Malunga also join the bill, following in the footsteps of Maverick Sabre and Waylayers as artists to record tracks for the Rising Sounds album.
_________________________________
ArA Harmonic
ArA is a soul singer/actress that draws from many urban influences and incorporates them into her layered vocals and live harmonic ability. She grew up in Bristol and graduated from Bristol Old Vic Theatres 'Made In Bristol' course. She has performed in some of the most notable venues in the UK Edinburgh Fringe Festival, National Theatre, Southbank Centre & more. Her singing career is extensive, she featured on Dubwiser Dancehalls song 'Ready Steady Go' and has been headlining gigs around Camden singing original songs written and produced by herself. She has been touring a play 'Score' for a year and half which incorporates both acting and singing. The play won best show at Plymouth Fringe Festival and has been performed in 8 cities.
Lovutta
South London vocalist Sally Coker may appear quiet and unassuming, but when she transforms into Singer-Song Writer Lovutta, she's a force to be reckoned with. At seven she was penning her first songs and has never looked back. Discovered by independent record label Latent Records, she delivered her first EP in 2014. Today, she's developing her production skills as well as her unique mix of compelling melodies and introspective lyrics that blend urban, R&B, House and commercial music.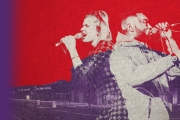 Discover tomorrow's headliners
Essential Info
Age restrictions: 14+, under 16s to be accompanied by an adult.
Latecomers will be admitted throughout.
---
Ticket Info
£5 early bird (limited number available)
£8 general admission
£10 on the day
*Fees are £1.95 per transaction
Stage Times
19:00 – Doors
20:00 – Lovutta
20:30 – Sonny
21:00 – Malunga
21:30 – ArA Harmonic
22:30 – Curfew
Times are approximate and subject to change without notice.