Join us on Valentine's Day to declare your love for the city. Chloe Leigh & The Willow Trio, Acre Tarn and Bat & Ball, are all bands whose history and music are influenced by London. With artists singing to and about London for a night, City Serenades will rekindle your love for the city.
Sounds of the Underground has been produced as part of Roundhouse's Festival Producers Project; a three month project bringing together a team of young producers to plan and deliver events at an established music festival.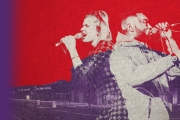 Discover tomorrow's headliners
Essential Info
Age restrictions: 14+, under 16s to be accompanied by an adult.
Latecomers will be admitted throughout.
*Fees are £1.95 per transaction