OneFest and Frank Turner present a weekend of panels, workshops and live music to inspire, support and develop a new generation of artists, performers and music industry professionals.
This panel will:
Seek to highlight the current challenges, explore ways to instigate change and encourage those from diverse socio-economic and cultural backgrounds to pursue a career in the music industry.
Though some strides have been made in a broader representation of women in senior positions, more remains to be done in seeing professionals of a BAME background reach similar heights.
Discussion points:
What are the current boundaries which contribute to the lack of diversity in senior positions of the industry?
How do we overcome the issue of diversity?
Why is it important to have broader representation?
How can we work together to create sustainable methods that will allow such change?
How do we make the industry more accessible?


Panellists:
Terry Mardi – Terry Mardi Group
Jusnah Gadi – Young Music Boss
Tasha Demi – Journalist
Alexandra Ampofo – Acoustic Live UK


Networking opportunities will be available after the session.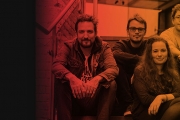 OneFest is a UK based, non for profit, music industry development company set up to support the emergence of new talent. Working collaboratively with Frank Turner, and with the support of Arts Co…
Essential Info
Running time: 45 Minutes
Age restrictions: not suitable for children but may attend if accompanied, at parents' discretion
Latecomers will be admitted at a suitable break in the performance.
*Fees are £1.95 per transaction