OneFest and Frank Turner present a weekend of panels, workshops and live music to inspire, support and develop a new generation of artists, performers and music industry professionals.
This panel is useful for:
Understanding how women have made it into senior roles across the industry
Non-traditional female roles in the industry – how do you break into them?
General debate
You will come away with:
Tips & Advice
Inspiration
Knowledge



Panellists:
• Paulette Long – Westbury Music
• Jusnah Gardi – Young Music Boss
• Sammy Andrews – Deviate Digital
• Tre – Frank Turner Tour Manager
• Rhiannon Jones – OneFest Cohort

Networking opportunities will be available after the session.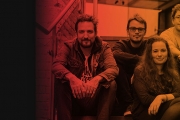 OneFest is a UK based, non for profit, music industry development company set up to support the emergence of new talent. Working collaboratively with Frank Turner, and with the support of Arts Co…
Essential Info
Running time: 45 Minutes
Age restrictions: not suitable for children but may attend if accompanied, at parents' discretion
Latecomers will be admitted at a suitable break in the performance.
*Fees are £1.95 per transaction