OneFest and Frank Turner present a weekend of panels, workshops and live music to inspire, support and develop a new generation of artists, performers and music industry professionals.
Across the music industry from major artists, to people working in the industry day-to-day, a recent survey has found 71% of respondents have suffered from some type of mental health issue.
This Workshop is useful for:
You'll come away from this Workshop having learned:
#MAD Stats (Help Musicians UK's Music & Depression Campaign)
About mental health issues faced by musicians and the wider music industry
How working conditions in the music industry can impact on ones mental health
What is being done
With details on:
Advice
Organisations that can help
Where to start
Networking opportunities will be available after the session.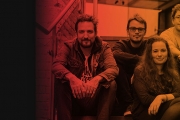 OneFest is a UK based, non for profit, music industry development company set up to support the emergence of new talent. Working collaboratively with Frank Turner, and with the support of Arts Co…
Essential Info
Running times: 45 Minutes
Age restrictions: not suitable for children but may attend if accompanied, at parents' discretion
Latecomers will be admitted at a suitable break in the performance.
*Fees are £1.95 per transaction