OneFest and Frank Turner present a weekend of panels, workshops and live music to inspire, support and develop a new generation of artists, performers and music industry professionals.
Gemma Cairney is a multi-award winning broadcaster, writer, producer and general polymath. She currently presents The Surgery on BBC Radio 1. As the network's only speech-based show, it focuses on tackling the everyday issues of young people and creating positive social action.
She has racked up a breadth of experience across the BBC networks including Radio 1, 2, 3, 4, 6 and, most recently, the BBC World Service, and covers Glastonbury each year on BBC1 and BBC2.
Outside the BBC she owns her own production company called Boom Shakalaka Productions, where she oversees different audio, visual and arts content. She has edited and written for various publications, including The Pool, Elle, Red, Glamour, Cosmopolitan, the Guardian and The Debrief.
Find out more about Gemma's journey in this special 'in conversation' session, as she's interviewed by Erica McKoy.
This panel is useful for:
You'll come away from this panel having learned: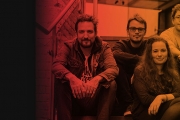 OneFest is a UK based, non for profit, music industry development company set up to support the emergence of new talent. Working collaboratively with Frank Turner, and with the support of Arts Co…
Essential Info
Running times: 45 Minutes
Age restrictions: not suitable for children but may attend if accompanied, at parents' discretion
Latecomers will be admitted at a suitable break in the performance.
*Fees are £1.95 per transaction