OneFest and Frank Turner present a weekend of panels, workshops and live music to inspire, support and develop a new generation of artists, performers and music industry professionals.
This panel is useful for:
Learning about Funding and who is eligible.
Dispelling the myths of funding, from the funders perspective and that of the artist.
How:
Help Musicians will profile some of the Creative Programme's awardees, who will talk to their peers about how they've approached fundraising, what's been successful and how

HMUK

funding has enabled them to do what they couldn't have accessed elsewhere.
You will come away with:
Knowledge of the Landscape
Challenges
Myth busting
Funding Schemes Available
Panellists:
Lucy Bampton – Help Musician's UK
Joe Morrison – Pledge Music / OneFest Cohort
Paul Bonham – Arts Council England
Networking opportunities will be available after the session.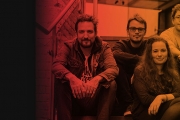 OneFest is a UK based, non for profit, music industry development company set up to support the emergence of new talent. Working collaboratively with Frank Turner, and with the support of Arts Co…
Essential Info
Running time: 45 Minutes
Age restrictions: not suitable for children but may attend if accompanied, at parents' discretion
Latecomers will be admitted at a suitable break in the performance.
*Fees are £1.95 per transaction