OneFest and Frank Turner present a weekend of panels, workshops and live music to inspire, support and develop a new generation of artists, performers and music industry professionals.
The future is digital. New technology is affecting every part of the music industry including the live space. Technology forces larger companies to react and at the same time lowers the barrier to creating and promoting your own events brand.
As a start-up in the industry how do you get a foot in the door with established companies? How do you reach out to the new tech giants? Or should you just go it alone?
This panel is useful for:
Anyone looking to get a job in the music industry that relies on technology or those looking to start their own thing.
You'll come away from this panel having learned:
How to pursue a job in digital with a big tech company.
Or how to use the traditional roles and create something for yourself.
With details on:
Funding
Apprenticeship schemes
Startup mentoring and support
Benefits for the wider industry


Panellists:
Sammy Andrews – Deviate Digital
Ibrahim Kamara – Guap
Nikoo Sadr – The Orchard
Jonathan Davies – Shazam
Ben Bowler – OneFest Cohort


Networking opportunities will be available after the session.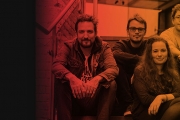 OneFest is a UK based, non for profit, music industry development company set up to support the emergence of new talent. Working collaboratively with Frank Turner, and with the support of Arts Co…
Essential Info
Running times: 45 Minutes
Age restrictions: not suitable for children but may attend if accompanied, at parents' discretion
Latecomers will be admitted at a suitable break in the performance.
*Fees are £1.95 per transaction