Join Trendscendence in a personalized interactive experience that places you in a future where the line is blurred between your physical body and your online 'avatar'.
Through a mixture of 360 degree video, virtual reality technology and digital performance, Prototype (Phase 1) asks you to question how we connect, communicate and what the future might hold.
The piece is all the things theatre/performance art 'should' be – it has heart and fire and fear and realness and is so bloody relevant.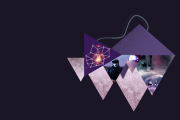 Hack your everyday: Plug in your headphones. Switch on your phone. Press Play. We Are Now is a new London festival that celebrates hacking everyday technologies in performance arts, presenting wor…
Essential Info
Suitable for mature audiences.
This is an intimate one to one performance for a single audience member and takes approximately 10 minutes.
Dates & Times
Friday 10 June: 18:00 – 20:30, Roundhouse Foyer
Saturday 11 June: 14:30 – 16:30 and 18:00 – 21:00, Roundhouse Foyer
Sunday 12 June: 14:00 – 15:30 and 17:00 – 19:00, Roundhouse Foyer