Flux is an on-going series of experimental projects exploring the relationship between physical systems and our acoustic environment and questioning where control exists between people and their surroundings.

This piece explores how acoustics which are often seen as a secondary aspect of architecture and the built environments can be engaged with by an audience and transformed after the designer has gone.

The suspended robotic gongs interpret the acoustics around them and perform these sounds back into the space.

Directed by the users, an interactive soundscape is created which the audience can take control and feel ownership of.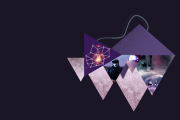 Hack your everyday: Plug in your headphones. Switch on your phone. Press Play. We Are Now is a new London festival that celebrates hacking everyday technologies in performance arts, presenting wor…