Join Sophie Rose for the first instalment in the Word Booth project, a performance-dialogue one-on-one inviting you to share lemonade and stories in a café booth.
Yeah but that's not what I meant explores the gaps between what we say and what we mean.
Why does the dad ask his daughter more about her computer's hard drive than her love life? Why does the hairdresser nod and agree and then cut it too short? Why do we broadcast that we're happy when we're not? And whose job is it to name the paint shades? There's far too much midnight blue.
An experiment between scripted poems and spontaneous conversation, Word Booth is a unique experience that invites you to be part of the performance.
You'll get tears, laughter and everything in between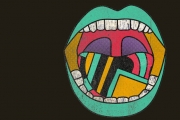 The Last Word, our festival of spoken word, storytelling and live performance returns for the third year running from 24 May – 18 June. Showcasing the genre's original trailblazers, r…
Essential Info
A 1-1 performance.
Register on the day for a place.