Step into a labyrinth of whispers. Listen to a million voices flutter all around you.
Experience a hundred tiny speakers transmitting streams of words that transform as you move around them.
Whether these voices are warped and discordant or harmonious and unified these are words you need to hear.
A unique fusion of sound, vision and poetry, The Whisper is a collaboration between Vahakn Matossian and Talia Randall.
Inspiring. Beautiful. Genuine.
Talia Randall was the highlight of the evening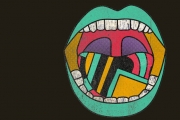 The Last Word, our festival of spoken word, storytelling and live performance returns for the third year running from 24 May – 18 June. Showcasing the genre's original trailblazers, r…
Essential Info
No ticket needed – just ask for instructions at reception
The installation can be accessed on the 2, 3, 4 June 2016. Opening times to be announced.