Come join The Poetry Takeaway and its talented bunch of poet chefs, who will write and perform a personalised poem for you to wrap up and take away for free.
And on 3 June, join us for Poetry Take Away Live, as Laurie Bolger hosts an evening of readings from special guests.
You supply the ingredients, let us do the cooking.
Everything will be prepared fresh on the premises.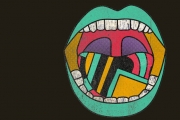 The Last Word, our festival of spoken word, storytelling and live performance returns for the third year running from 24 May – 18 June. Showcasing the genre's original trailblazers, r…
Dates and Times
Saturday 28 May – 3-6pm, MADE Bar & Kitchen
Sunday 29 May – 3-6pm, MADE Bar & Kitchen
Friday 3 June – 6-9pm & 9-11pm (LIVE), MADE Bar & Kitchen
Saturday 4 June – 3-6pm, MADE Bar & Kitchen