We all have secrets; sides of ourselves we don't show, bitten tongues from truths untold, and confessions buried for years, waiting to come out.
Kid Glove invite you to listen to their secrets, and to share yours – if you dare.
They will wear their hearts on their sleeves for you, sharing words as yet unspoken.
In return, they hope to hear your words, whether you come armed with your best confessional poetry, retell an anecdote that's itching to get out, or bring a page from your teenage diary.
Hidden in the building, you will find Kid Glove's secrets – come and listen to their confessions and share your own.*
*These anonymous stories may be included in the live event.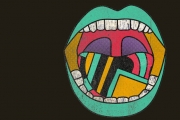 The Last Word, our festival of spoken word, storytelling and live performance returns for the third year running from 24 May – 18 June. Showcasing the genre's original trailblazers, r…
Dates and Times
Saturday 4 June – 8.30pm, MADE Bar & Kitchen