What is the future of love?
As technology's influence on our romantic relationships grows and gender identities shift, we are facing a new world. Experience your own interactive audio journey exploring provocative, challenging and personal stories.
Coming Out is an opportunity for Last Word audiences to sample an interactive installation that will have its world premiere at FutureFest in September 2016. It has been crafted by some of the UK's very best emerging radio makers and groundbreaking digital artists.
You'll encounter a series of objects that will trigger audio through your own mobile and begin to imagine what romance will look like in twenty years' time.
Coming Out is a co-production by FutureFest and Roundhouse Radio
Roundhouse Radio is a youth-led online station broadcasting the best in specialist music and speech based programmes. In 2015 the station collaborated with Wintour's Leap on the groundbreaking Step Inside Radio sound and storytelling installation
FutureFest is a weekend festival of immersive experiences, compelling performances and radical speakers to excite and challenge perceptions of the future. Powered by Nesta, the UK's innovation foundation, FutureFest will be held at Tobacco Dock in east London, 17-18 September 2016, and programmed around four themes: Love, Play, Work and Thrive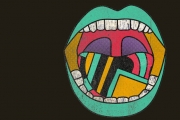 The Last Word, our festival of spoken word, storytelling and live performance returns for the third year running from 24 May – 18 June. Showcasing the genre's original trailblazers, r…
Essential Info
Wheelchair accessible.
Suitable for ages 16 and over – may contain violence, sex and drug references.
Please arrive at least 10 mins before show time.
All equipment will be provided.
Food is served at the end – it is optional to eat and may contain nuts and dairy.
Please meet at the Coming Out Box Office.
We'll be asking for feedback from our audience as we trial this new technology and innovative way of telling a story.