As part of our 'Getting Ahead In Music' Day, check out a whole host of live music from some incredible emerging artists, fresh out of the Roundhouse Studios.
No need to book, just turn up and check out the next big thing…
Sackler Space
Roundhouse Music Collective – This talented ensemble of young musicians aged 16-25 meet weekly to create and perform together. They had some festival activity in the summer, followed by a performance at On Mass with Jamie Cullum in November and are set to blow you away with their final show at Roundhouse Rising this March. Expect flavours of jazz, rock, pop and electronica.
Velcrolove – There was an Englishman, a Scotsman and a Welshman on an acting course. They recorded an EP in Fontainebleau, then worked with a guy who worked with Take That. And now they're here. Cue punchline!
Molasses – Lifting their moniker from the ingredients list of a box of crunchy nut cereal, Alessia and Katie, formed guitar/drums duo Molasses at the tail-end of 2011. Guitars needle and shred (think Unwound) or chug insistently (everything Josh Homme has been involved in) underpinned by deceptive rhythms which are often taut and fiddly but dynamic. Songs shift like quicksand, spiralling out into unexpected mathy passages accented by a miscellany of sparse wails and hollers.
Torquils Bar
Roundhouse Audio Collective – This like minded group of individuals are all about experimenting with sound, gadgets and interactive performance. Under the guidance of sound artist Gawain Hewitt, these 16-25 year olds have been exploring the world of performance with technology, and have been working on a 30 minute set, along with some sound installations, specifically for Roundhouse Rising. Prepare to have your boundaries pushed and your perceptions challenged!
Josh Jacob – Multi-talented Josh Jacob, 22, is a singer, songwriter, producer, pianist and guitarist. Describing his sound as "high brow pop", it's an intriguing mixture of heavy drums, child-like melodies and classic chord progressions layered with a deep jazz vocal, which many have described as unique and surprising considering his aesthetic.
Shao Hao – Chinese singer-songwriter Shao Hao fuses Chinese folk pop, western soul, R&B and folk/pop music. He draws inspiration from artists such as Stevie Wonder, Tracy Chapman, Adele, Imogen Heap, Damon Albarn and Chinese artists like He Xuntian, Qi Qin, Faye Wang and Li Zongsheng.
Dizparity – A music project moulded by Po Cheng Yeh from Taiwan, which focuses on electronica fused with different types of music genres that the artist was inspired by. With the aim of creating something different as well as 'jamming' beyond the boundary during the songwriting and producing process, the artistic concept is defined by the world "dizparity", which is the romanization of "disparity".
Gawain Hewitt featuring Patrick Terry – Gawain Hewitt is a musician, sound artist and educator. He is head of R&D for Drake Music, lead technologist for the Animate Orchestra and an experienced music practitioner.
Emerging Artist Stage
From 4pm til 7.45pm, the Emerging Artist Stage, in Torquils Bar will be filled with the most exciting selection of emerging artists that the Roundhouse creative programmes have to offer.
This stage is unique in that not only is it a showcase of the young musicians enrolled in our creative programmes, but the stage's programming was done by Team Rising, a dedicated group of young music festival programmers.
Performers from the Emerging Artist Membership Scheme, projects like Wax Lyrical, Producers vs Vocalists and On Track will feature as part of more than 25 short jump up sets which will make this multi genre stage a vibrant, diverse platform of the great talent we've got in the Roundhouse Studios.
Are you an emerging musician yourself? There's plenty to get involved with throughout the day including Q&A panel discussions with music industry leaders, workshops, demos and more!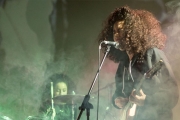 Roundhouse Rising Festival is back! Featuring an exciting line-up of the best emerging music, we'll have the likes of The Magic Gang, Black Honey, INHEAVEN, Kuenta I Tambu, Hannah Lou Clark…
Essential Info
Entry is free and there is no need to book.
All ages welcome.