Is circus too hetro-normative?
Join us at this long table event and hear from industry experts and insiders as we look at why are there so many all-male circus companies? And can a woman ever enjoy the same privileges and opportunities in the industry as a man?
If you have a point of view to share, come and be part of what is sure to be a fascinating and impassioned debate.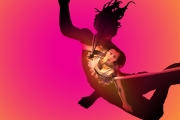 Spectacular circus under a brick Big Top CircusFest 2016 is back with three weeks of the most spectacular and extraordinary international and UK contemporary circus. The festival features major…
Essential Info
*Fees are £1.95 per transaction
Latecomers will be admitted at a suitable break in the event