Winner of the Jacksons Lane Total Theatre Award for Circus 2016 at the Edinburgh Fringe.
Circus that's brainy and beautiful – completely mesmerising
Weaving delicate metaphor with jaw dropping spectacle, New Mexico-based Ricochet's unique style of poetic acrobatics has taken the world by storm. Using lyrical physicality and virtuosic circus technique, Smoke and Mirrors draws from rigorous backgrounds in classical and contemporary dance, aerial acrobatics, somatic practices and improvisation to explore the internal landscapes of the human experience.
Presented in partnership with Aurora Nova
---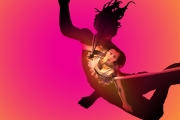 Spectacular circus under a brick Big Top CircusFest 2016 is back with three weeks of the most spectacular and extraordinary international and UK contemporary circus. The festival features major…
Essential Info
This event takes place at Jacksons Lane, 269a Archway Road, London, N6 5AA.